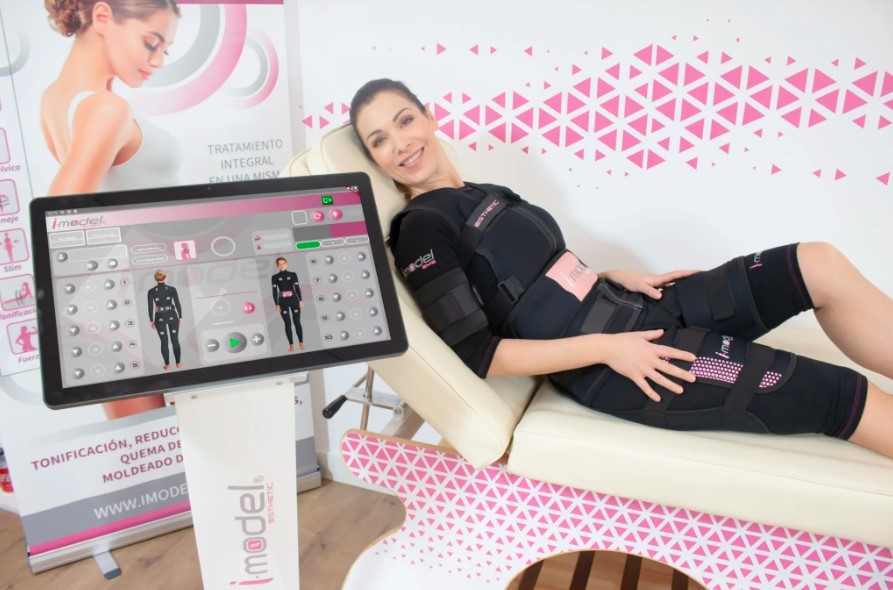 The i-model includes a new technique: the E-Kcal (electrocaloric) measurement system. This innovative system measures caloric expenditure relative to and based on a number of parameters, such as intensity, frequency, weight, height, age and gender, required to calculate electrocalories.

These parameters result in a score that is translated into a point system, which is adjusted throughout the session and which later serves as a benchmark for comparing different sessions.

UP TO 40,000 MUSCLE CONTRACTIONS IN ONE SESSION
The mechanism used by the i-model enables the treatment of the entire body, with up to 40,000 real muscle contractions in deep muscle layers. Legs, arms, buttocks, chest, back and abdomen can be targeted with contractions that lead to fat loss and toning of the body.

VISIBLE RESULTS AFTER THE FIRST SESSION

ELECTRO-KILO CALORIE MEASUREMENT E-Kcal
BENEFITS:
• BACK
• CELLULITE
• MASSAGE
• WEIGHT LOSS
• STIMULATION
• STRENGTH

BRIEF TREATMENT IN ONE 25-MINUTE SESSION
18 ADVANCED ELECTRO-STIMULATION POINTS
TONING, CELLULITE REDUCTION, FAT LOSS AND BODY SHAPING

New device with EMS technology for comprehensive treatment, achieving excellent results in just a few sessions.

ADVANTAGES OF TREATMENT USING I-MODEL ESTHETIC

• IMPROVES POSTURE AND LOWER HYGIENE
• REDUCES CELLULITE
• LIFTS BUTTOCKS
• STRENGTHENS THE PELVIC FLOOR
• LIFTS AND TIGHTENS THE SKIN
• DISAPPEARS FAT
• REDUCES WATER RETENTION
• STIMULATION

COMPLETE THERAPY IN ONE 25-MINUTE SESSION

ADVANTAGES OF THERAPY USING AESTHETICS
I-MODEL

The full body EMS technology used by i-model has been tested for many years and scientifically proven for areas of the beauty industry. The product has been improved during this period and is intended for comprehensive treatment.
It provides deep and immediate muscle stimulation for full muscle contraction and precise relaxation, eliminating fat, reducing cellulite and toning the skin.
The i-model is indicated for achieving optimal results in body reshaping through passive therapy and does not require any type of physical activity to achieve the desired result.

BENEFITS FOR THE BODY

The i-model helps to tone the treated areas by reducing fat stored in the tissues and increasing muscle mass. A wide variety of programs are available, allowing the treatment of different areas by directly stimulating the muscles in the buttocks, arms, legs, abdomen and back.

The success of the i-model is based on specifically targeted passive therapy for local or global treatment of different muscle groups, helping to strengthen muscle tissue and fibers, eliminate fat and tone the treated areas.